Requiescence (BL Visual Novel)
Requiescence Anniversary!
---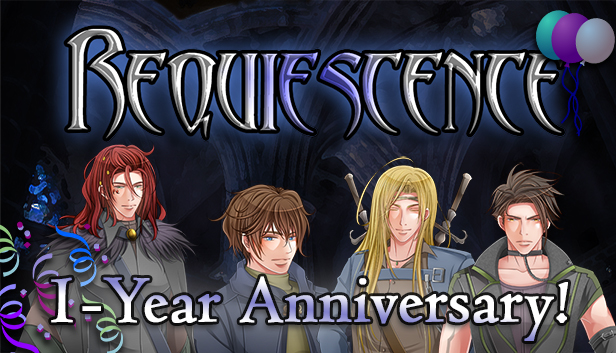 Exactly one year ago today, we released our first visual novel into the world – Requiescence! It's pretty hard to believe; we've come a long way since then and learned so much during development that Requiescence seems like a distant memory. Now, as we prepare to release our second game within the next couple of months, the two of us at Argent Games wanted to celebrate Req's birthday with a few goodies.
For one day only, Requiescence is available at 50% off! If you've wanted to give it a try but never had a chance to purchase the game, here's your golden opportunity!
We've also released the character backstories for the very first time. In the game itself, the love interests discuss their own histories to a limited extent, so if you've ever been curious about Kaul and Carrault's spicy past or Damian's inner turmoil, you can download the free PDF! (Check the Demo section)
Finally, the Requiescence artbook – formerly only attainable through Kickstarter – is now also available for free! It contains some sketches and WIPs, along with a few lore tidbits and fun behind-the-scenes snippets. (Check the Demo Section)
A giant thank-you to everyone who supported us during Req's development back in 2016. Without you, we wouldn't have been able to make Chess of Blades – a project with much more art, voice acting, and higher production quality all around! Req lifted Argent Games off the ground, and we plan to keep improving the quality of our projects with each new release.
~*~*~*~*~*~*~*~*~*~*~*~
Support our future and current projects on Patreon for extra goodies, follow our Twitter for extra content, and join our Discord to chat with the devs (and other yaoi/visual novel fans!)
Files
(ANNIVERSARY SPECIAL) Requiescence - Character Backstories
6 MB
Aug 19, 2017
(ANNIVERSARY SPECIAL) Digital Artbook PDF
13 MB
Aug 19, 2017
Get Requiescence (BL Visual Novel)