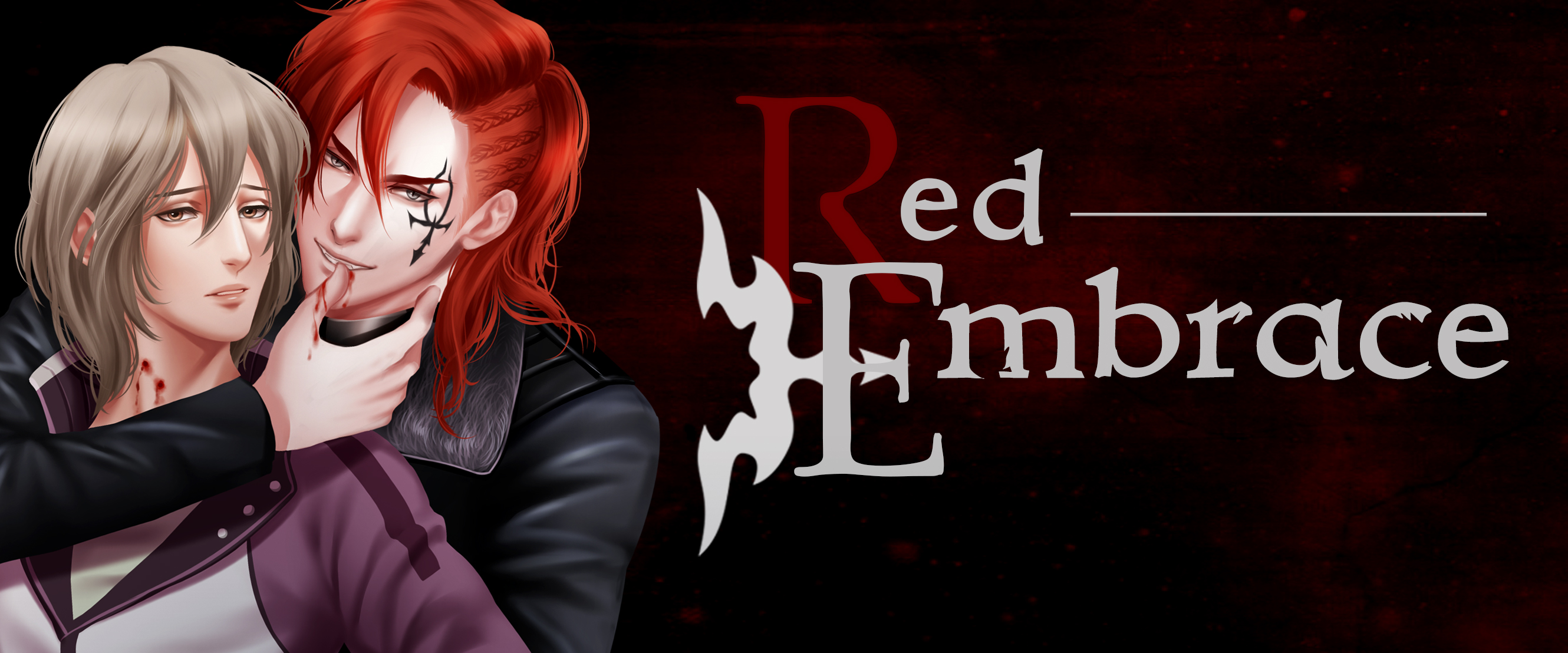 Red Embrace (BL Visual Novel)
A downloadable game for Windows, macOS, Linux, and Android

"There are lots of predators out there... stalkers who'd just love to have a taste of someone like you..."

«Столько хищников вокруг... жаждет попробовать на вкус кого-то вроде тебя...»

"Ci sono molti predatori là fuori… cacciatori che perderebbero la testa per assaggiare uno come te…"


Plot Summary

The graveyard shift at a dingy diner in San Francisco -- that's where MC's story begins. It's just another normal night, or at least it seems to be.

...That is, until a certain mysterious customer stops by, bringing the dangerous attention of a few people with him. When it rains, it pours, and suddenly MC finds himself in the middle of a war he didn't even know existed... between vampires.

How does MC react to the dark, violent world that opens up before him? That's up to you!
Краткий сюжет
Мёртвая смена в обшарпанной забегаловке Сан-Франциско – вот откуда берёт начало наша история. Очередная ничем не примечательная ночь, по крайней мере так может показаться.
Пока не заглядывает некий таинственный посетитель, привнося с собой нездоровый интерес ряда опасных личностей. Беда не приходит одна, и внезапно главный герой обнаруживает себя в эпицентре войны, о существовании которой он даже не догадывался... войны между вампирами.
Как гг отреагирует на тёмный, жестокий мир, открывшийся ему? Решать вам!
Il turno di notte in una squallida tavola calda di San Francisco – è qui che la storia di MC ha inizio. È un'altra normale notte, o almeno così sembra.
…Ovvero, finché un certo misterioso cliente entra nel locale, attirando le attenzioni di alcune persone. "Piove sempre sul bagnato" dicono, e improvvisamente MC si ritrova catapultato nel bel mezzo di una guerra di cui non era neanche a conoscenza… una guerra fra vampiri.
Come reagirà MC davanti al mondo oscuro e violento che gli si spalanca davanti? Sta a te deciderlo!

Available in: English, Russian, and Italian

► Genre: Drama, BxB romance, dark modern
► Rating: PG-13 (language, violence, sexual themes)
► Length: ~60,000 words
► Endings: 8
► Platforms: Android, Steam, Itch.io

► Changeable MC personality & interests
► Different dialogue & choices based on personality
► 11 track OST with a dark, urban vibe
► 14 CGs with multiple variations
► Жанр: Драма, BL, тёмный модерн
► Рейтинг: PG-13 (ненормативная лексика, сцены жестокости и насилия)
► Длина: ~ 60. 000 слов
► Количество концовок: 8
► Платформы: Андроид, Стим, Itch.io
► Возможность изменять личность и интересы гг
► Диалоги и варианты развития событий меняются в зависимости от типа личности гг
► 11 оригинальных саундтреков с тёмными урбанистическими нотками
► 14 СG-рисунков с множественными вариациями
► Genere: Drammatico, romanticismo yaoi, dark modern
► Rating: PG-13 (termini volgari, violenza, riferimenti sessuali)
► Lunghezza: circa 60.000 parole
► Finali: 8
► Personalità e interessi di MC modificabili
► Dialoghi e scelte differenti in base alla personalità
► 11 tracce originali con una macabra atmosfera urbana
► 14 illustrazioni digitali con variazioni multiple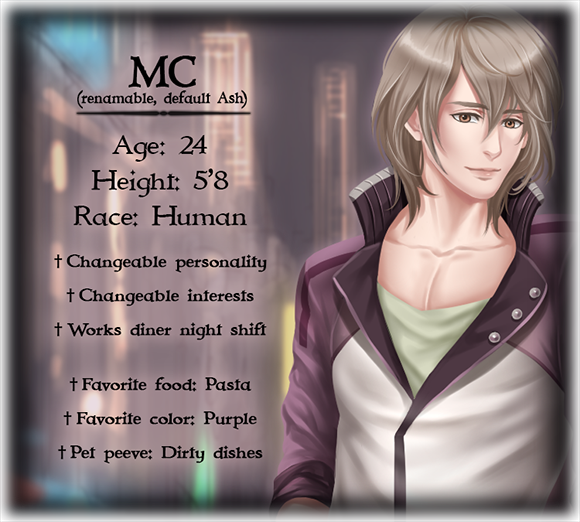 Ash has been stuck in San Francisco for most of his life. Even though he dreams of becoming a famous artist (whether in music, digital art, or writing is up to the player!), he currently works the graveyard shift at a run-down little diner.

He's wry, tough, and determined by default, but his personality changes and grows throughout the course of the game!
Почти всю свою жизнь Эш провёл в Сан-Франциско. И хотя он мечтает стать известным художником (а возможно музыкантом или писателем в зависимости от решения игрока!), сейчас его работа — мёртвая смена в маленькой захудалой забегаловке.

По умолчанию Эш саркастичный, сильный и решительный, однако на протяжении игры его личность меняется и развивается!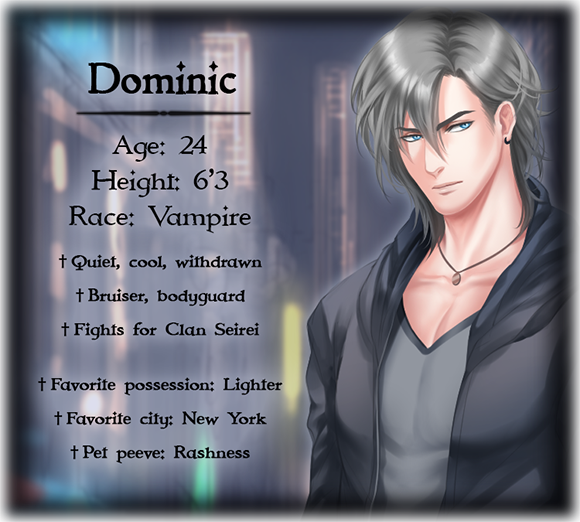 Despite his intimidating appearance, Dominic prefers to keep to himself. A man of few words, he rarely offers any insight into his thoughts, but his silence suggests a deep conflict going on beneath the surface.
Имея устрашающую внешность, Доминик предпочитает сторониться окружающих. Он немногословен и сам себе на уме, однако подобное поведение свидетельствует о глубоком внутреннем конфликте.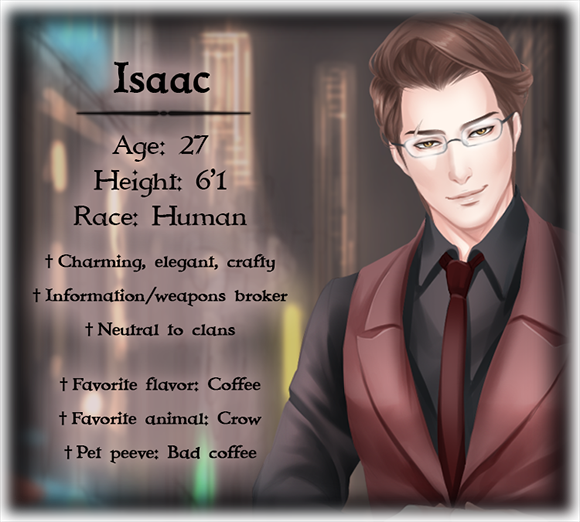 Isaac reeks of "unscrupulous businessman," and makes no effort to hide it. He seems very out of place among the rough, unrefined types who hang around San Fran's seedy parts, though there's a good reason for the company he keeps.
От Исаака так и несёт «беспринципным бизнесменом», что он и не пытается скрывать. Кажется, ему совсем не место среди грубых, неотёсанных типов, ошивающихся в сомнительных районах Сан-Фран, однако у него свои причины быть тут.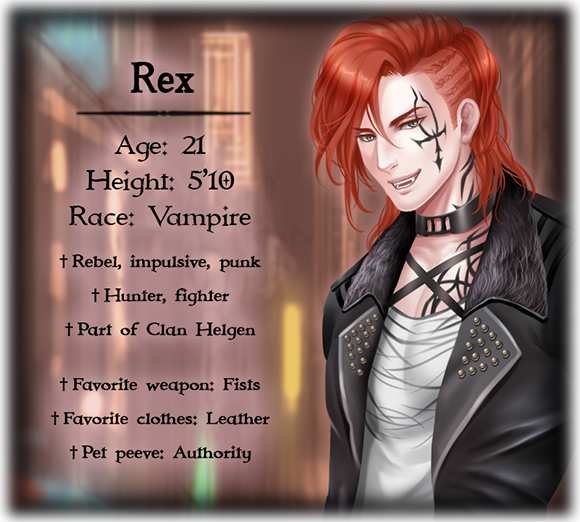 Wild, impulsive, bloodthirsty, and Dominic's polar opposite, Rex wears his vampiric nature like a badge of pride. It's a wonder he's lived as long as he has, considering his reckless nature and insatiable appetite.
Дикий, импульсивный, кровожадный. Являясь полной противоположностью Доминика, Рекс с гордостью относится к своей вампирской сущности. Даже удивительно, что он так долго протянул, учитывая его безрассудную натуру и неутолимый аппетит.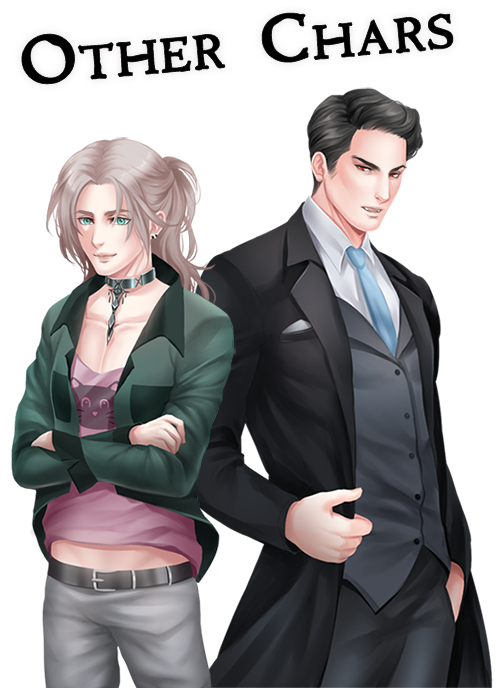 ---
Connect with us on:
Twitter | Discord Server | Tumblr Dev Blog | Facebook | Newsletter
Please share your thoughts with us in the comments below, or with an email to contact@argentgames.co!
Purchase
In order to download this game you must purchase it at or above the minimum price of $4.99 USD. Your purchase comes with a Steam key. You will get access to the following files:
[Full Game] Red Embrace (Windows/Linux)
235 MB
[Full Game] Red Embrace (Mac)
314 MB
[Full Game] Red Embrace (Android)
215 MB
Also available on

Download demo